The modern classic daysailer from Holland
---
The latest generation of the purest form of sailing – gentleman's daysailing. The last and the best Ranger 9.9 (hull No. 8), a Klaas Bood design, combines 25 years of yacht building tradition with modern insights. The result is a beautifully styled daysailer with classic lines and fantastic sailing characteristics.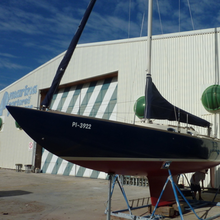 This daysailer is an innovative yacht in many ways. Her elegant lines, modern bottom, spacious cockpit, highly limited draught and sail area make her one of a kind.
The yacht
She is more than daysailer, she is a weekendsailer.
With four berths, small galley, a head and a number of lockable storage spaces she can be used also for short, weekend cruises. Despite her classic lines, the height of the cabin remains 1.6 m. The yacht's classic looks are highlighted again in the interior through the tasteful mahogany planking, the mahogany floor with ashen striping and the ashen ceiling.
The hull is built in vinyl ester –epoxy with a PVC foam core, while the deck also has a sandwich construction. The advantage of this type of construction is that it makes the hull very stiff and durable and prevents condensation.
This yacht features 9/10 rigging with slightly swept spreaders and adjustable backstay, which is controlled from the cockpit, like all other halyards, sheets and reefs. The cockpit features comfortable seating with high backrests for perfect ergonomically designed support. The teak deck enhances the yacht's classic look.
Below the water line the yacht is well balanced too. Optimal hull speed is achieved through flowing lines, well-balanced proportions of the volume of the bottom, an elliptically shaped bulb keel and a balanced rudder.
She is a performance sailing yacht build to enjoy the wind, water and nature with friends or family. She is also an excellent three-man racing boat, which is eminently suitable for solo sailing as well.
If you want to simplify your sailing and avoid managing a crew, than Juvita could be an option for you.